She will really be missed by everyone in our family...
Whenever I whispered "What's that?" she would immediatealy growl and be on guard for the offending person..
Whenever I whispered "Get'em" she was gone; she would growl, obtain her defensive stance and....bark intensely until I told her it was "ok.....you got'em"...
She was feisty for a little 17-pound Fox Terrier; she didn't know she wasn't a big dog...and, you couldn't tell her she wasn't, either....Gas station attendants, look out...!
Perfectly Groomed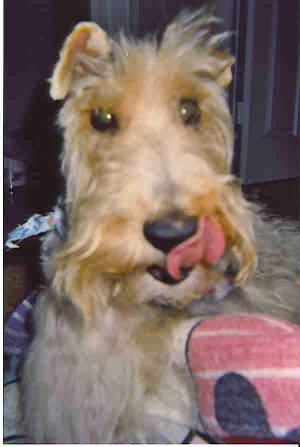 My Mom loves it when I look good....the special treat is coming!
I got "Puppy" from a private breeder. She was the last of the litter and I will never forget the sadness in the son's face when he had to let her go to me. His eyes were so red, and welling up with tears at the thought of parting with their last little Fox Terrier puppy. I told them I'd take good care of her and send pictures of her. It breaks my heart to think of even tellling this family what happened to "Puppy"....How would I tell them what someone did to her? I still cannot believe this, myself. I can only imagine the pain they would feel, knowing that one of their own's fate was so tragic. I'm sure they would wonder why no additional pictures have been sent since we last talked. Maybe I'll gather the strength to call them, and cry with them, when they hear the news.
Lady Justice Ari' was my little rose; always my "Puppy"

A flower in bloom....

growing, blossoming, sharing her beauty with me and everyone else

a beautiful flower, nurtured and cared for by me, my family

uprooted, ripped from the soil without a chance to say goodbye

snatched from life....ripped from existence

yet her fragrant memory still lives on in my heart

Psalm 37:

Fret not thyself because of evildoers for the Lord laughs at them for he sees that their day is coming

Our Favorites
Justice's favorite things were:

drinking lots, I mean LOTS of water
playing with my Dad
going for rides in the car in her seat, at her window
playing with her monkey
playing with her socks
playing with her other toys
sitting on my lap
getting lots of petting and hugs and snuggles from me
curling up on her "blankie" (I covered her up with a section of her "blankie" in her casket, along with her toys)
She loved it when I had just taken her favorite Mickey Mouse "blankie" out of the dryer and couldn't wait for me to lay it down for her to curl up in a circle and snuggle with it. The picture at the top of this page shows Puppy with this "blankie".
One of our favorite stores was PetSmart. That's where we bought most of her toys and other, you know, puppy things...