This is my page for healing; I created this page to memorialize my sweet Lady Justice Ari', my beloved Fox Terrier who suffered a suspicious, tragic and untimely death.
This site gathers memories, thoughts and messages to my sweet puppy. The puppy I'll never hold in my arms again;
Your spirit is free; no more fear; no more pain; you are free as the water that flows through the sea. I only hope that you will hear my whispers in the night of how much I love you and miss you. I am comforted by the fact that a part of me is forever with you; my breath is within your lungs as I tried so hard to breath the breath of life into you to bring you back to me; but, it was too late....
Someone recently told me that you may have "sacrificed" your life for mine...that, perhaps, your fate was intended for me...When I think about things this way, a bittersweet, chilling feeling (a strange combination of sadness and love) comes over me....You were always my protector; my "sidekick"; part if my identity; now you are forever my hero...one of my guardian angels from above....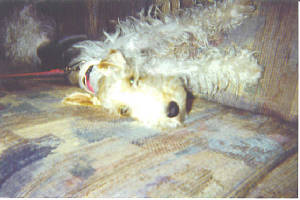 I loved to play...run...prance...jump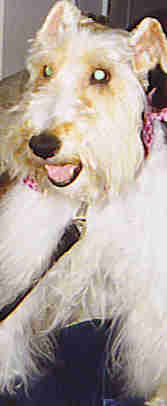 I know my family really misses me...but, I'll love them, forever.
So, run, dance, prance around and play in heaven with the angels and your new furbaby angel friends, Whisper, Murphy, Nova, Tucker Bud, Mulligan Man, Frosty, Dusty, Tiger and all the rest of the furbaby angels at the Rainbow Bridge. Know that I love you and always will. If I could have been there to protect you from the evil person who snatched you from me, I would turn back the hands of time. If I could take away your fear and pain, I would erase it from existence. I pray the angels gave you peace before you felt any pain. If I knew that was the last day I'd see you; hug you; kiss you, I'd have stayed home all day and held you all night. If I only knew...
But, my sweet puppy, I'm thankful for the fun times we had together; I'm thankful for your watchful guard and protection; I'm thankful for your attitude and sassy style; I'm thankful for the gift of you in my life; We are forever bonded and I will never let your memory fade from my heart; but, my sweet puppy, I must let you go to be with the angels; it's so hard to say "goodbye" to yesterday, so we'll just say "so long, for now"... But, I'll never let you go from my heart...you are here forever....Now, I light a candle in your memory each night and pray for you and the other furbaby parents who miss their little angels.... Although I'll never know why this happened, I just pray for your peace...for peace....and strength to make it through this trial....sometimes I remain in disbelief.....how? why? we will find out, soon....
To anyone else who's lost a pet, whether by natural or unnatural means, my heart aches for you. I pray for your strength and courage to face the next day, moment, hour of your grief. This is not an easy road to travel, but the only way out, is to go through.
The pain and heartache is, at times, unbearaable. Feelings of helplessness, sorrow, sadness and even guilt surround and attempt to smother the happy thoughts...Puppy suffered such a tragic, horrible death....the image of her helpless body still remains indellibly etched in my mind....I replay, over and over again, how I gave her CPR...fighting the inner voice that said,"it's too late"....and, breathing again...and again into your mouth and nose....hoping for a sign of life...praying for some small response....a whimper...a whine....but, nothing.....
I'm told to focus on the "happy times" and the "good memories"....but, it's hard to do when you have a vision of your little puppy strangled to death.....whoever did this to you will have the wrath of God against them...."Vengeance is mine, says the Lord...."I will repay".....now, let's just sit back and wait for God to work.....in time, the guilty party will be uncovered and justice will be served for my Lady Justice.....
Click here to read why Lady Justice's death will not be in vain...